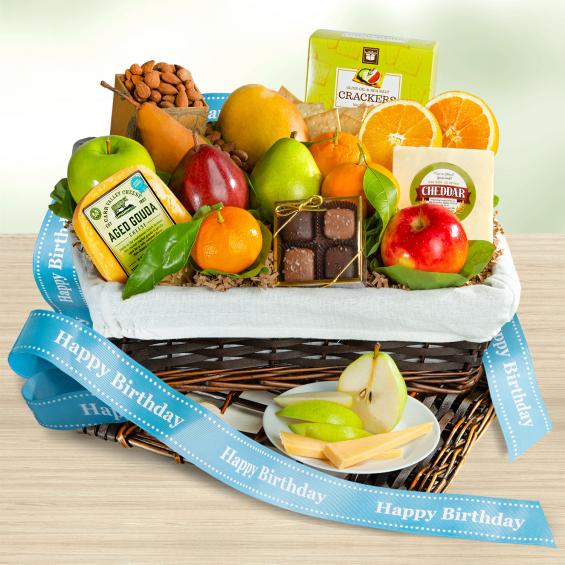 Birthday Deluxe Fruit Basket - CFG4101B_23N
This Birthday ribboned deluxe-sized basket of orchard favorite fruits are accompanied by two natural cheeses, chocolate-covered sea salt caramels, premium almonds and olive oil sea salt crackers for a generous gift.
Contents: 2 Imperial Comice Pears (D'Anjou when not in season), 1 Mango 1 Beurre Bosc Pear, 1 Crimson Red Pear, 1 Braeburn Apple, 1 Granny Smith Apple, 1 Navel Orange, 3 Mandarins (substituted seasonally with Navel Oranges), 6 oz. Fresh-Style Natural Cheddar Cheese, (in Summer Months Cheese is substituted with 7 oz. Artichoke Cheese Dip and Parmesan Cheese Whisps), 6 oz. Creamy Jack Cheese, 4pc. Milk and Dark Chocolate Covered Sea Salt Caramels (Substituted in Summer Months with 3 oz. Wrapped Soft Sea Salt Caramels), 3 oz. Roasted and Salted Almonds, 2 oz. Partners Olive Oil Sea Salt Crackers. Tied with a Birthday ribbon.
Dimensions: 15 x 10 x 10
Availability: All Seasons
Please note that fresh cheese will be substituted with gourmet cheese dip during the summer months
This Gift Is packed the day your order is received. We ship it Second Day Delivery as Standard Shipping - Monday through Wednesday. Orders received after 12 noon will be shipped the following day. Orders received on Wednesday will be shipped the following Monday.  Our Fresh Fruit gifts are packed when we receive your order and shipped in rugged containers so that they arrive at the destination looking and tasting fresh and delicious when received. You will appreciate the difference in our fruit gifts. We guarantee your complete satisfaction. THIS GIFT IS AVAILABLE FOR IMMEDIATE SHIPPING WITH YOUR MESSAGE INCLUDED!
---