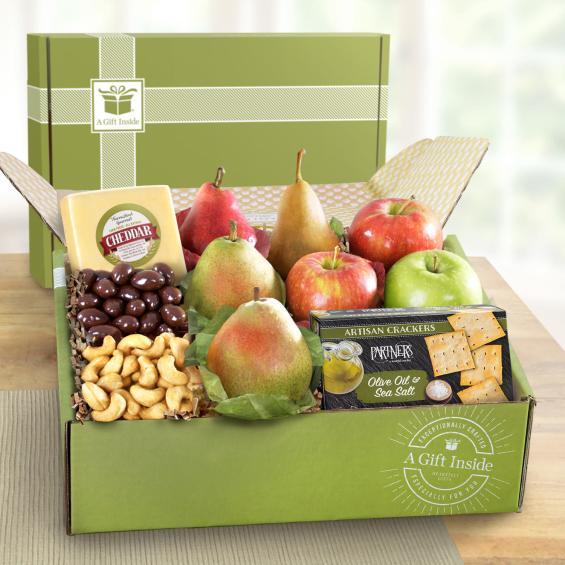 Fruit, Cheese and Chocolate! - CFG2017_23N
This deluxe sized box includes varietals of orchard-fresh pears and apples with a farmstead cheese (substituted with a jar of cheese dip during hot summer months), olive oil sea salt crackers, savory cashews and sweet dark chocolate almonds. 
Contents: 3 oz. Dark Chocolate Almonds, 3 oz. Roasted Salted Cashews, 3 oz. Roasted Salted Pistachios, Granny Smith Apple, 2 Seasonal Red Apples, Red D'Anjou Pear, Bosc Pear, 2 Green D'Anjou Pears, 5 oz. Farmstead Cheddar Cheese, 2 oz. Partners Olive Oil & Sea Salt Crackers
This Gift Is packed the day your order is received. We ship it Second Day Delivery as Standard Shipping - Monday through Wednesday. Orders received after 12 noon on Wednesday will be shipped the following Monday unless OVERNIGHT DELIVERY is requested. Orders placed Thursday afternoon or later will not ship until Monday.  Our Fresh Fruit gifts are packed when we receive your order and shipped in rugged containers so that they arrive at the destination looking and tasting fresh and delicious when received. You will appreciate the difference in our fruit gifts. We guarantee your complete satisfaction. THIS GIFT IS AVAILABLE FOR IMMEDIATE SHIPPING WITH YOUR MESSAGE INCLUDED!
---