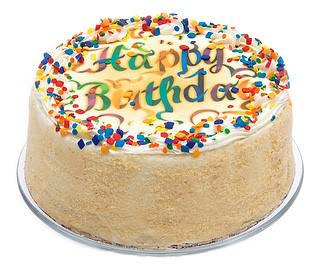 7" Vanilla Birthday Cake - CFD199
This gorgeous birthday cake says, "Happy Birthday" in swirls of pastel colors and candy confetti decorations. This luscious vanilla cake is filled with raspberry jam and vanilla buttercream filling for a very festive look. A party favorite that's sure to brighten up the room and tingle your taste buds with a rich, moist taste. A personal gift message will be included.
Diameter: 7"
Weight: 1 lb. 10 oz.
Serves: 6-8
Please note - Some of our products may contain nuts. Our facility is NOT a nut-free facility, and as a result it is possible that any product may have come in contact with nut or nut oils.

Standard shipping for this item is via UPS 2 day. Our daily cutoff is 10am EST so orders placed after 10am EST cannot ship the same day.  To ensure freshness we do not ship this item over the weekend, therefore we cannot deliver on Sundays, Mondays or Tuesdays (unless overnight shipping is requested). 
---