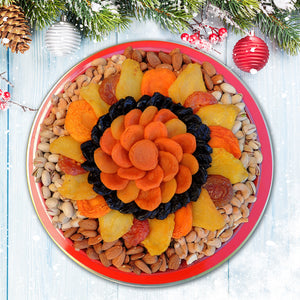 Red Tin Tray of dried fruit and nuts - CFV70025-23N
A lovely round design on a holiday red tin tray ~ California Apricots, Mediterranean Apricots, California Angelino Plums, California Peaches, Pears, California Pitted Prunes, packed over a premium assortment of nuts~ Roasted and Salted Cashews, Roasted and Salted California Pistachios and Roasted and Salted California Almonds. Use the beautiful red tin tray after the goodies are gone!
Customer favorite. Great gift to take to your next potluck with family and friends!
Gift Tray Dimensions approx. 12" Diameter
---